It's a familiar feeling for those who love birds. That extra gravitational tug that a truly special species can create. It's a force that results in a slightly unreasonable cycle of planning, dreaming, strategizing, hoping, and still more dreaming. One such bird for me was the Whistling Warbler (Catharopeza bishopi). This 5-6 inch long denizen of the rainforest understory lives on only one island on the entire planet: St. Vincent.
St. Vincent is a beautiful Caribbean island located in the Lesser Antilles just 27 miles south of St. Lucia and 185 miles north of the South American coast. The oval island is volcanic in origin, a fact that is not lost on anyone who sees 4,049 ft La Soufrière dominating the northern end. This active volcano has erupted three times since 1900, with the most recent in 1979. These rich volcanic soils combine with 50-150 inches of annual rainfall to support lush tropical rainforest and palm brake forests. These habitats in turn support several very unique, range restricted birds.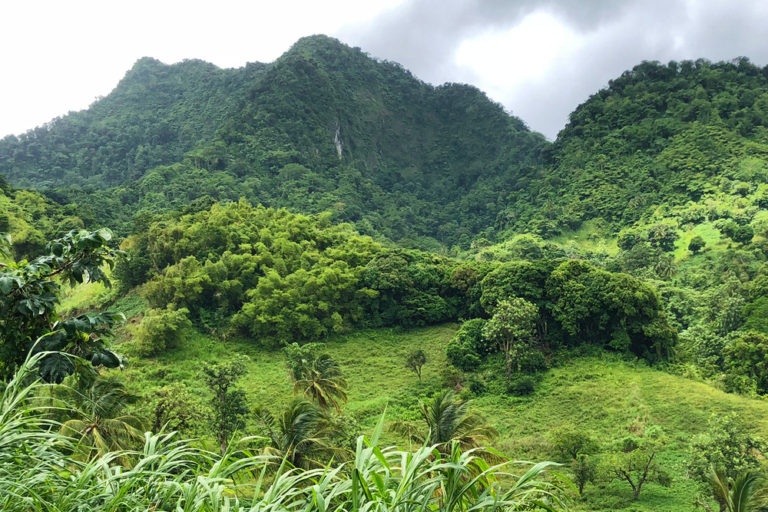 Perhaps the most mysterious of these endemic birds is the Whistling Warbler. This dark warbler has a striking white eye ring and a clear band of white across the throat. To me this species looks like the combination of a redstart and an Old World fantail. Owing to their uniqueness they occupy their own genus: Catharapeza. Skulking in the underbrush this warbler belts out a series of clear, crescendoing notes. It's the type of song that pierces the forest, freezes you in your tracks, and forces a usually futile search for the source.
This Whistling Warbler trip began several months earlier when my friend, Dan Clark, contacted me and expressed interest in an adventure. I'm an obsessive trip planner and I had several potential Caribbean destinations in mind. After reviewing our options, we both settled on St. Vincent as a unique island with several challenging birds. It wasn't long before I discovered that airfare to Barbados was particularly affordable, and it would put us within 100 miles of our target. Soon we had our tickets booked: Miami to Bridgetown, Barbados on American Airlines and Bridgetown on to Kingstown, St. Vincent on LIAT.
Next up was to do as much research as possible, so I scoured every book, trip report, and checklist that I could find. I looked for clues on the locations, times of day, microhabitats, and sounds that would improve our chances of seeing and maybe even photographing our target. I also contacted guides in the vicinity and was ultimately put in touch with Lystra Culzac of the Science Initiative for Environmental Conservation and Education (SCIENCE). Lystra was fantastic and before long she had helped us plan a couple of days with Glenroy Gaymes, a local Foresty Officer. I knew their local knowledge would greatly improve our chances.
The months ticked by and in late May it was finally time to go! We transited through Barbados which turned into a fun destination as well. I'll save those details for another blog entry, but suffice it to say we were thrilled by birds like Barbados Bullfinch, Little Egret, Eurasian Spoonbill, and Masked Duck. Our LIAT flight was smooth and we landed on St. Vincent around 9PM and settled into our hotel as a steady rain pounded down on the roof.
That first morning we met Glenroy at 4:30AM and headed to the north end of the island. Over the course of the next two days we visited several gorgeous locations and photographed many of our other targets, including St. Vincent Parrot, Lesser Antillean Tanager, Scaly-breasted Thrasher, and the local Bananaquits (which are entirely black). All of those species were fantastic, but the one that I still wanted to see the most was the Whistling Warbler.
Working our way up one nearly vertical forest trail we heard the beautiful, captivating Whistling Warbler song for the first time. Slapping mosquitoes and trying to find firm footing on the muddy, narrow steps we waited impatiently for the song to be repeated. A few minutes later it rang out a second time, even closer now, and a flash of movement above our heads materialized into an adult Whistling Warbler! But the moment was fleeting, and the warbler, with those boldly contrasting black and white bands, quickly melted back into the forest. Despite spending time in good habitat those two or three seconds turned out to be our only glimpse on the first day, and the reality of the challenge began to sink in. There were good reasons why relatively few photos exist. Whistling Warbler aren't common, they don't perch in the open, and their forest home is generally dark and rainy. Getting a solid photo was going to take time and a healthy dose of luck.
On the second day we checked out another high elevation site where Whistling Warblers had been seen in recent weeks. Walking this trail we found several spots where birds were singing. Glenroy had the ability to squeak with his teeth in just the right way to attract birds, and this technique brought one Whistling Warbler in over our heads. Once again the field marks burned into my eyes, but getting a photo was out of the question. The bird was simply too fast and was gone in an instant. The beautiful song echoed on up the mountainside as the warbler disappeared.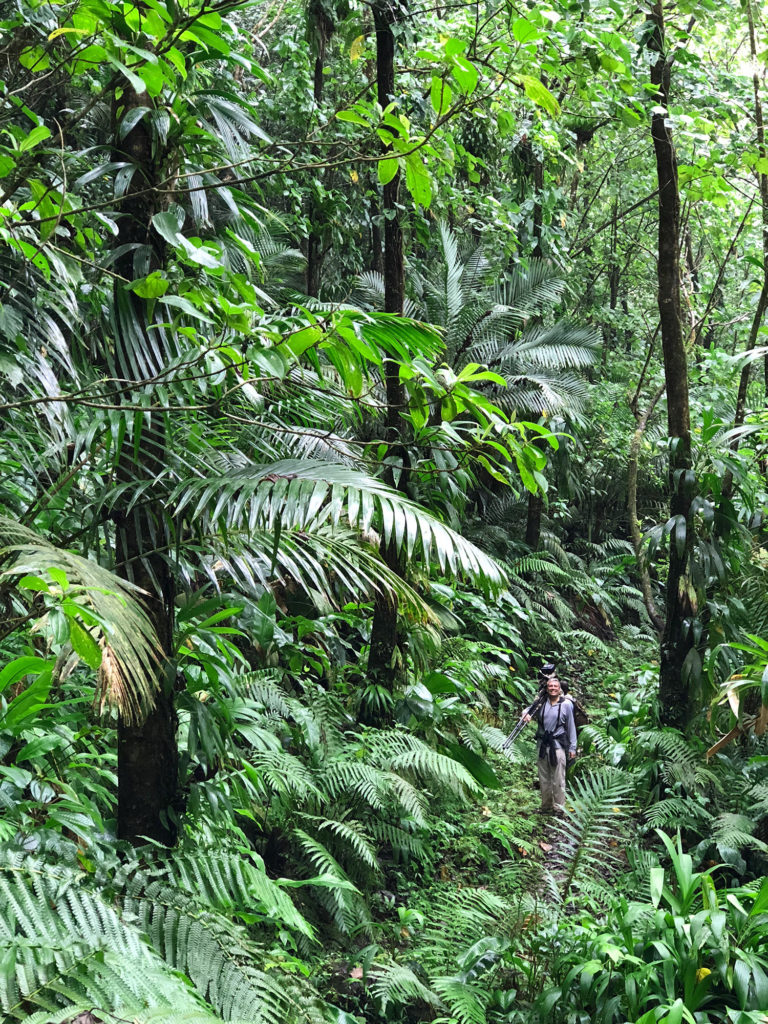 Our third day was our final on the island, but I had strategically booked a 9PM flight back to Barbados to give us enough time to visit one more location…one more chance. Today we were on our own and we visited the Vermont Nature Trail. This is a well known trail for anyone interested in nature and wildlife on the island, and it did not disappoint.
As we hiked our way to the top, lugging the big camera gear with us, I began to hear St. Vincent Parrots flying overhead. I set off at a quickened pace toward the famous parrot overlook that I'd read about in trip reports. The canopy was thick over the the trail and it seemed like the overlook would be the only chance to see a parrot in flight. But before I reached the top, the beautiful song of a Whistling Warbler burst from the undergrowth directly in front of me and set my heart racing. The song was incredibly loud and clear. This bird was close! I found as level a patch as possible on the rocky trail and setup to wait for the bird to move.
Thankfully the bird did come into view several times over the next two hours, and Dan and I did our best to track its sporadic movements and capture photos. It was a challenging endeavor, and unlike much of the literature that I had read, this bird seemed to prefer the mid to upper canopy where it was foraging for caterpillars and other insects.
Dan and I gave each other high fives and couldn't get over our good luck in finally succeeding in our quest for a Whistling Warbler! We descended the trail knowing what a true privilege it was to have seen this rare species so well. According to the latest IUCN estimate, there are 2,000-3,300 mature individuals of this endangered warbler remaining…and I couldn't help but wonder if this was an overly optimistic estimate.
All across the Caribbean there are similar stories of amazing endemic birds that inhabit single, small islands. Hopefully photos like these will help people learn about these little jewels and to protect the spots they call home.