Here is a continuation of the grand adventure that Matías is having in southern Argentina. If you missed the earlier blog entries, please look here for Days 1-3 and Days 4-6.
---
Day 7
From the town of Camarones I drove south for about 40 kilometers to visit a provincial reserve called "Cabo Dos Bahias". I had learned along my journey to be flexible, as Patagonia continues to surprise.
Along the road I decided to take any short trail that would take me to the beach, and on those I found both morphs of the Variable Hawk. The first photo shows an adult on a nest. It's not a great photo because there were chicks and I didn't want to disturb them. The second photo shows the uncommon gray morph.
Also in a small bay I found a number of steamer ducks, a Chilean Flamingo running to take off, and quite a few Patagonian Crested Ducks.
At the Reserve itself, in a somewhat small area, the wonders of nature allowed for harmony between several species. The place is a Magellanic Penguin colony where Lesser Rheas walked freely. Guanacos (newly born and adults) enjoyed the sunny afternoon, penguins minded their own business, whilst their predators (Kelp Gulls, Southern-crested Caracaras and Skuas) did their part. And a fluorescent looking lizard managed to catch some insects.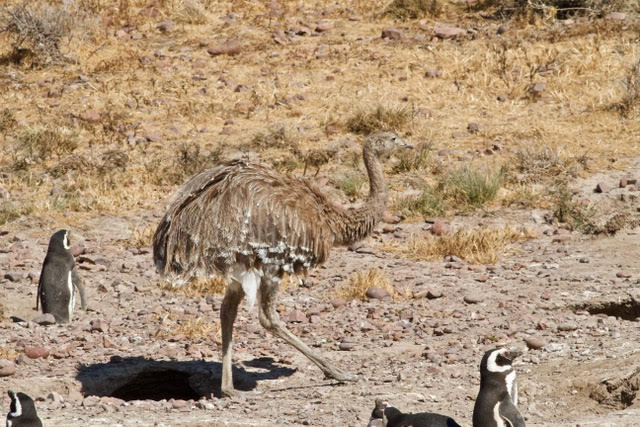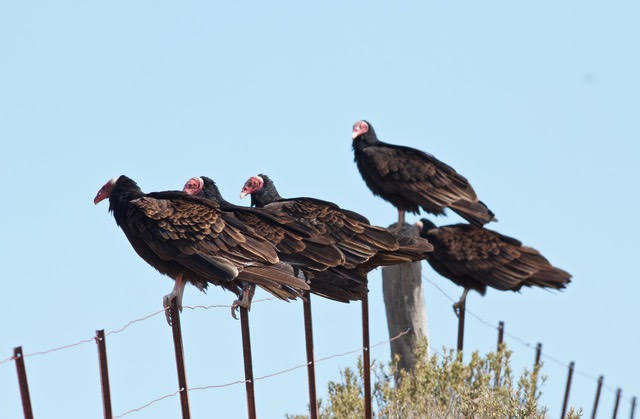 The harmonious day finished when these guys invited me to join their party. It was time to return to Camarones.
---
Day 8
Camarones gave me plenty of photos and great times but the moment had come to head to Puerto Deseado in the Province of Santa Cruz. As usual I could choose the 'easy way' or the 'Matías' way' and of course I took the dirt road that would lead me to Comodoro Rivadavia (in Santa Cruz Province) where I planned to refuel. I was facing a drive of about 600 kilometers, and according to the map, about half of it would be on a dirt road.
My wife, Andrea, had given me an assignment and requested that I check a place along the dirt road called Bahia Bustamante Lodge (about 60 kilometers from Camarones). A fair road took me to the place that according to the internet is a dreamy spot, but the reality is completely different! The lodge looked untidy and abandoned, and the only soul around was a Patagonian Gaucho with whom I briefly spoke about the facilities. As I was ready to leave, in a typical gaucho intonation he asked me "Which road are you taking?" and in all seriousness I answered "I don't really know, but it is marked on the map as a road that takes me to Ruta 3 and then on to Comodoro." His expression told me he must think that I am on drugs, but after a few seconds he added calmly "Don't forget to close the gates as you go by." We shook hands and I took the road on the map.
I honestly loved my new "road" but having survived the adventure I would recommend doing it with two 4WD vehicles and especially not by yourself with a vehicle approaching 400,000 km on the odometer!
The road took me through mountains that I didn't know existed. I crossed many streams on bridges that had seen better days and some with enough water to generate problems. At certain points the road turned into a trail with many alternative trails due to water washing various routes away. As I was finishing this so called road a heavy storm with extreme winds fell on the old station wagon. Until the storm, I was loving my adventure…but I did get a little worried.
Despite the fact that the driving took most of my attention I managed to take some photos. I saw some Least Seedsinipes that are more frequent along the Andes Range, males (1st photo) have a grayish breast with a black tie like stripe, whilst on females breast is alike the rest of the plumage (2nd photo).
I also photographed a Patagonian Yellow-finch that is endemic to Patagonia and Tierra del Fuego (Argentina and Chile), and I came across one single Tawny-throated Dotterel. This was fortunate because it will become harder to observe this species as I go west in the province. Several Austral Negritos were also photographed (the female is shared here).
And I had two very rare sights. The first were a few Spectacled Tyrants which are hardly ever observed this far south in Argentina (photo shows a female). And the other one is really more than rare…it was extraordinary: an albino Guanaco. I have only heard of a couple similar specimens along the Andes Range, but never so close to the Atlantic Ocean.
The storm was just above me and it didn't look good, so I stopped the photography and got to driving. I left Camarones at about 9:30 am and arrived at Puerto Deseado at 9:30 pm. I won't be going any further south of Argentina, but have already driven 2793 kilometers (1735 miles). The Legacy carries a lot of extra weigh made up of dirt, and I still have almost twice this mileage to return home.
---
Day 9
I arrived at Puerto Deseado and soon learned the reason for the name. Back in 1586 a corsair named Cavendish arrived in this part of the world with a ship named Desire (translates into deseo in Spanish). He named the area after his ship and some time later the name was changed to Puerto Deseado and a cape was named cape Cavendish after the corsair.
A renowned member of the English Scientific Society, Mr Charles Darwin, also visited these lands and camped here back in 1833 to study the "birds that didn't fly" amongst other wonders of the place. 
Perhaps, Darwin saw much of what I have seen this day in my own expedition. We left by mid-morning on a boat with heavy winds and a rough sea to observe the birds placed second on my wishlist. It is a Near Threatened species that inhabits only a few places of the coasts of the Pacific Ocean from Perú to central Chile and it also occurs in Puerto Deseado, Santa Cruz Province, Argentina: Red-legged Cormorant.
The Red-legged cormorant is a wonderful bird that nests in cliffs on near-shore islands. In my opinion, it is the nicest member of the Phalacrocoracidae family and I was able to come a few meters away from them (on a boat). They mate for life and share incubation of their eggs, so when one is incubating the other adult is in charge of bringing the food.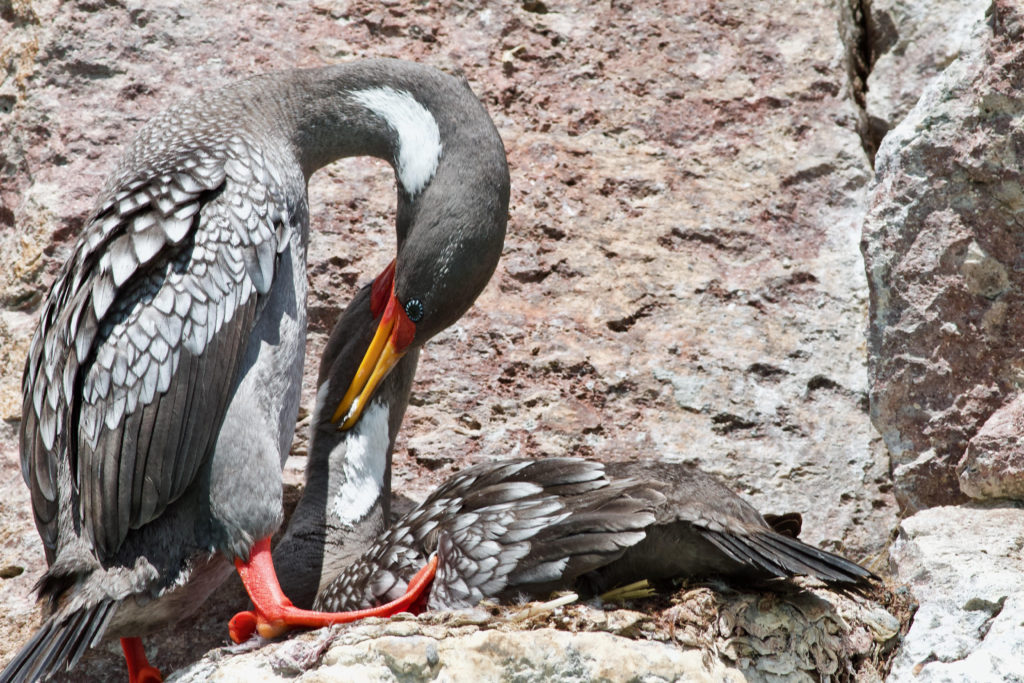 They shared this particular island with a colony of Rock Shags of which I have already posted some photos, but here are some better ones.
There were many other species in the few islands that we visited following Darwin and another interesting one that was included on my wishlist was the Dolphin Gull.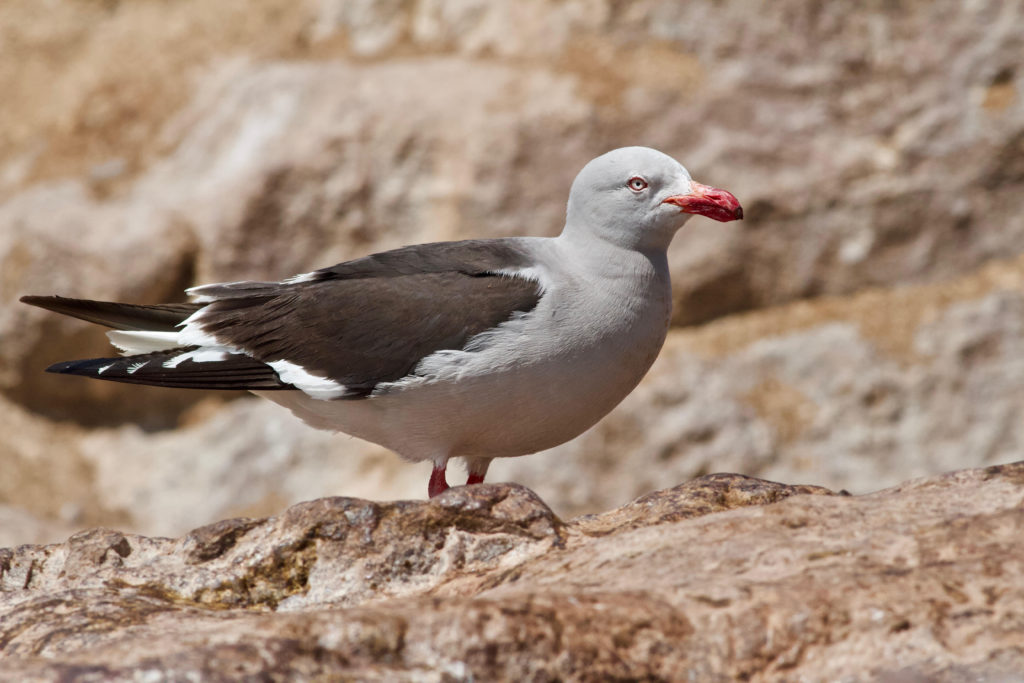 And most likely Darwin also saw a relative of this splendid South American Sea Lion.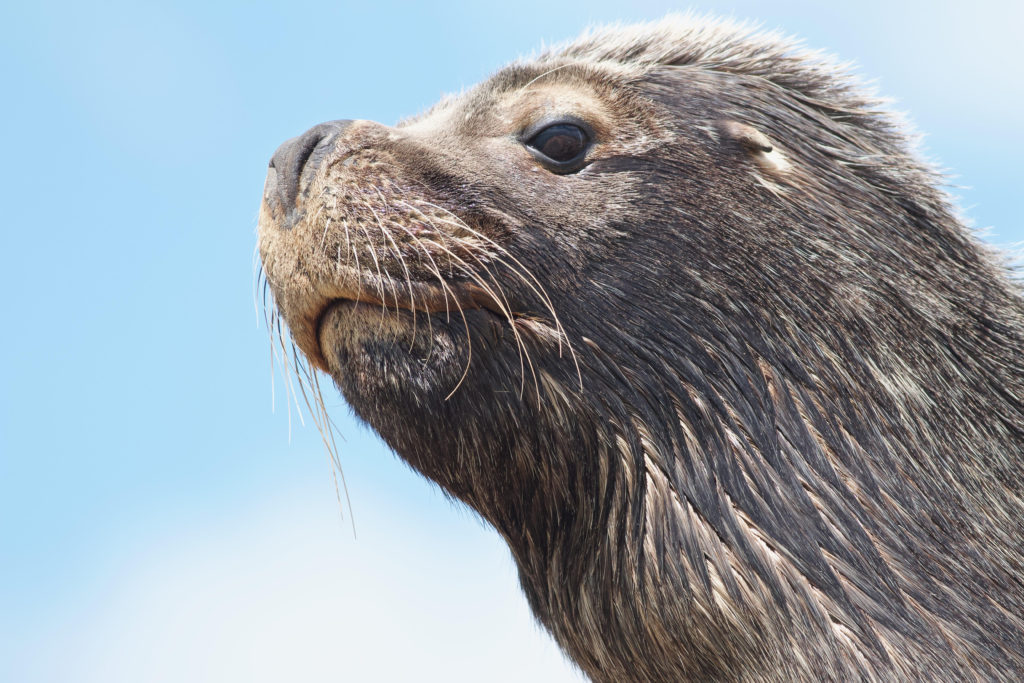 It is a thrill to follow the paths of corsairs that named unexplored lands and scientists that elaborated theories that persist to the present. Tomorrow I will remain in Puerto Deseado until around 3 pm and then I will drive West to the small village of Perito Moreno in northwest Santa Cruz Province.
---
Day 10
We pulled away from the dock at 8 AM sharp accompanied by a group of four biologists, an Italian couple, a Swiss couple that was traveling around Argentina in a motorhome, two Germans, and a Welsh Family. My expectations were high and I hoped not to get seasick because we had a 40 minutes ride to "Isla Pingüino/Penguin Island". The name conjures up thoughts of a lair taken from a Batman movie, but in this case the name is for a much more obvious reason. 
These, as I have posted earlier, are the lands of the Magellanic Penguin, but Isla Pingüino has a surprise. A short while ago (about 30 years) some scholars studying the Magellanic Penguin discovered a couple dozens individuals of a new species on the island, these few started a small colony that today holds around 1,500 Rockhopper Penguins that return year after year increasing the size of the colony. The Southern Rockhopper Penguin is listed as Vulnerable and it is wonderful to know that this colony maintains or increases its size each year.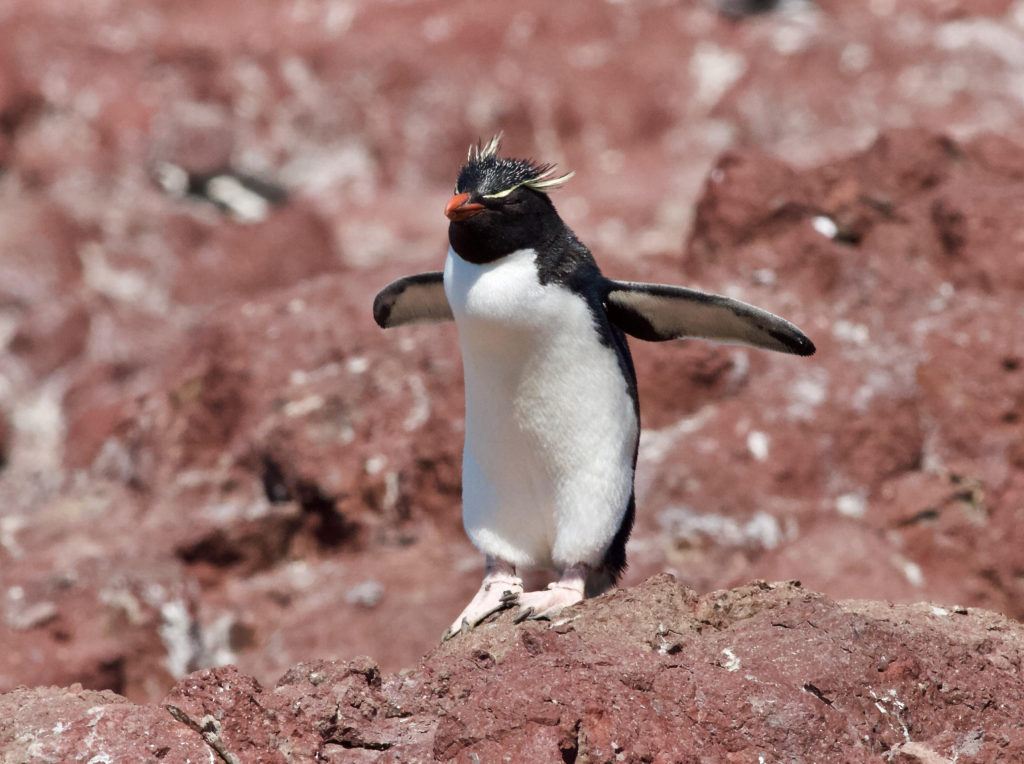 They are amazing birds that with great effort come from the sea along rocky and steep cliffs to their colony; some reach the top of the world.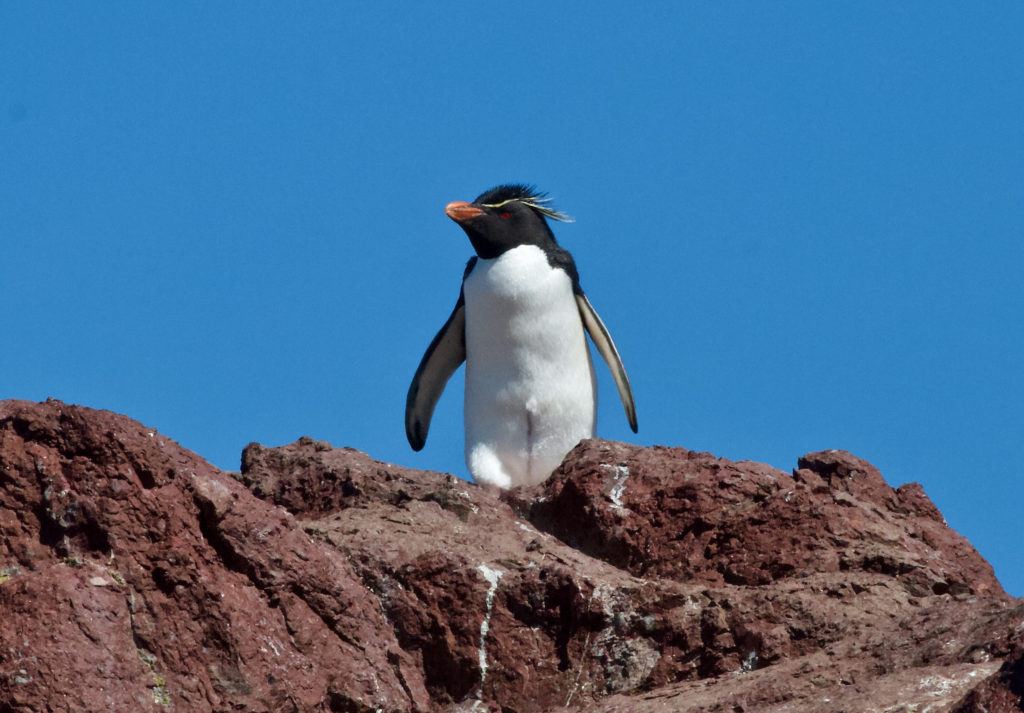 They do have nice neighbors near by like Blackish Oystercatchers. And some that aren't quite so welcome, such as the skuas that are the largest predators on the island.
Soon it was time to return, but we had some extra surprises coming. On a rock island we saw a fairly new colony of what I believe are South American Fur Seals (in Spanish Lobo Marino de Dos Pelos or Foca de Dos Pelos).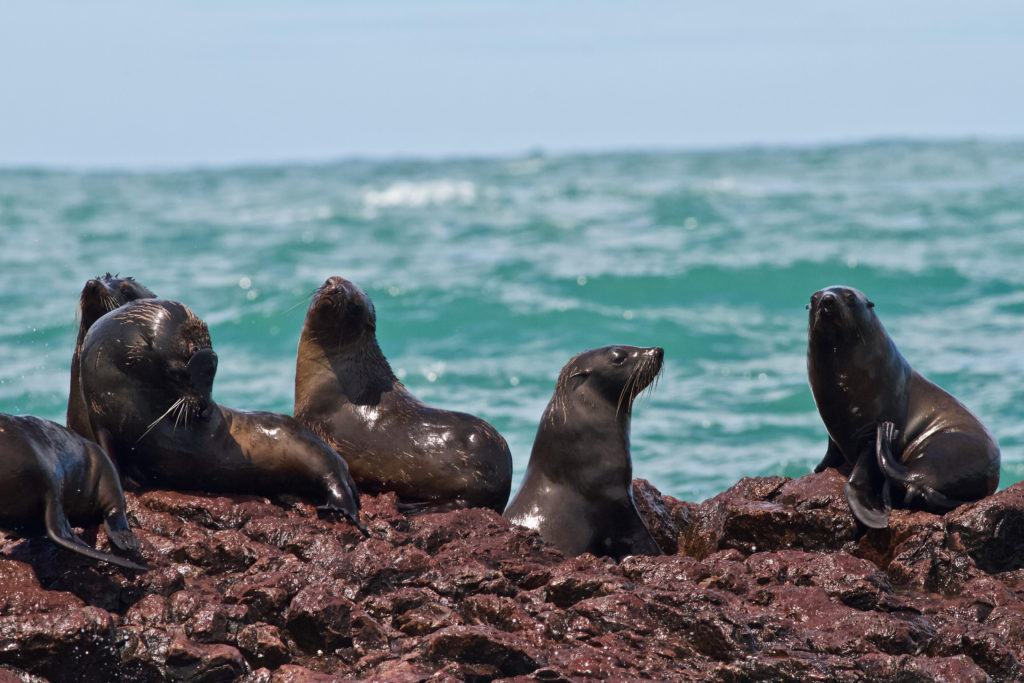 As we were observing the seals we had another unexpected visit as several Commerson's Dolphins zipped past the boat. We turned around and arrived back at Puerto Deseado by 3 pm. I wished all my companions godspeed, checked the oil of the Station Wagon and departed to Perito Moreno where I will rest for a couple of days before I get to observe the bird at the top of my wishlist.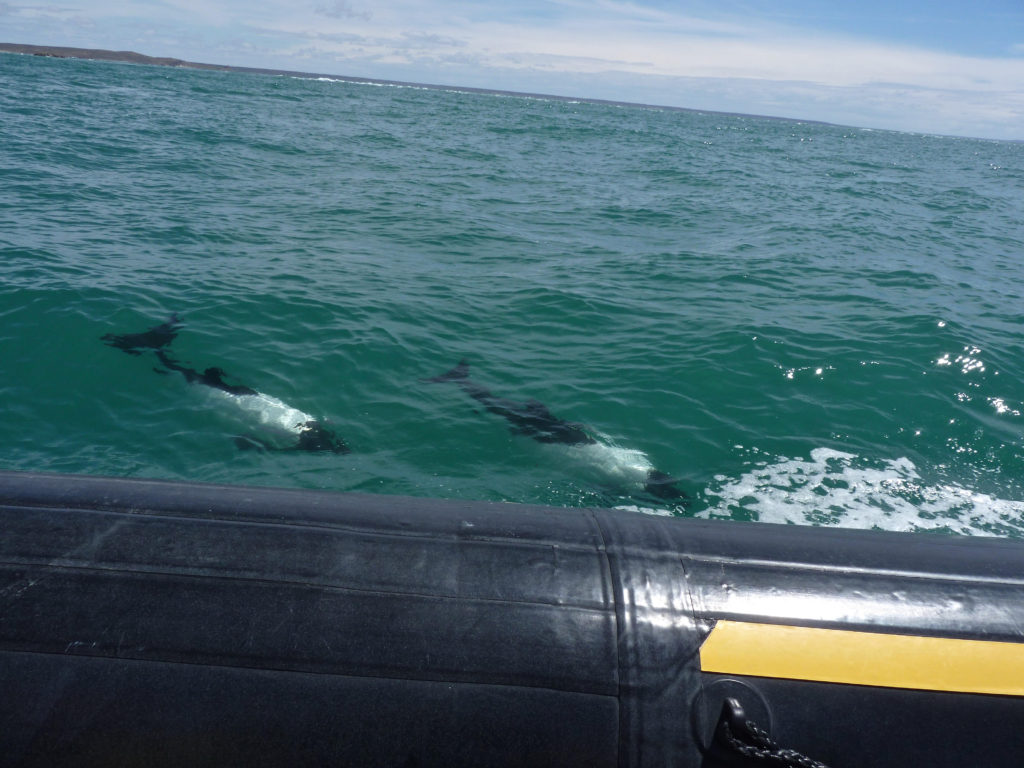 ---
Day 11
I took a couple of days off in the small village of Perito Moreno. The kilometers driven so far have caught up to me, so a couple more relaxed days won't do any harm. However, I just can't stay at the hotel doing nothing, so yesterday I went to an area northwest of Santa Cruz Province called Los Antiguos" just along the border with Chile.
The place received the name because time ago local natives came to spend their last days here; Los Antiguos would translate into The Elder. Close to this village there is a 20,000 hectare farm open to public with amazing trails. I decided to take one that lasted 6 hours accompanied by an English young couple that were traveling Argentina. They are wonderful people and thanks to them I have the first photos of me on this adventure.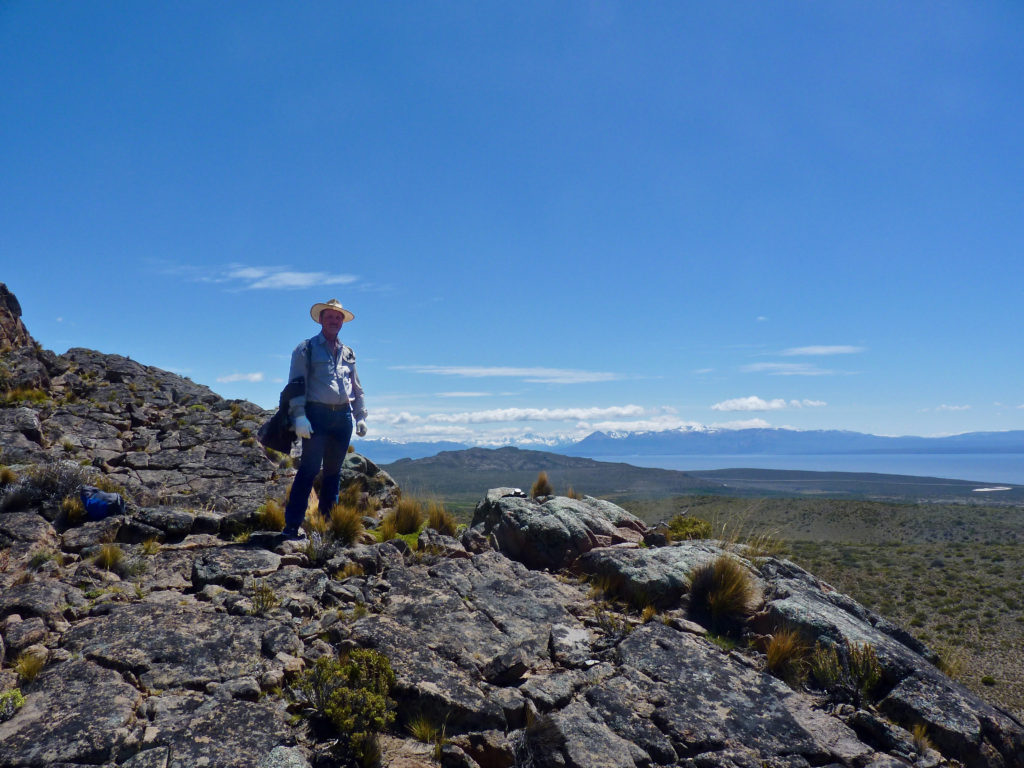 The camera is almost attached to my body by this point!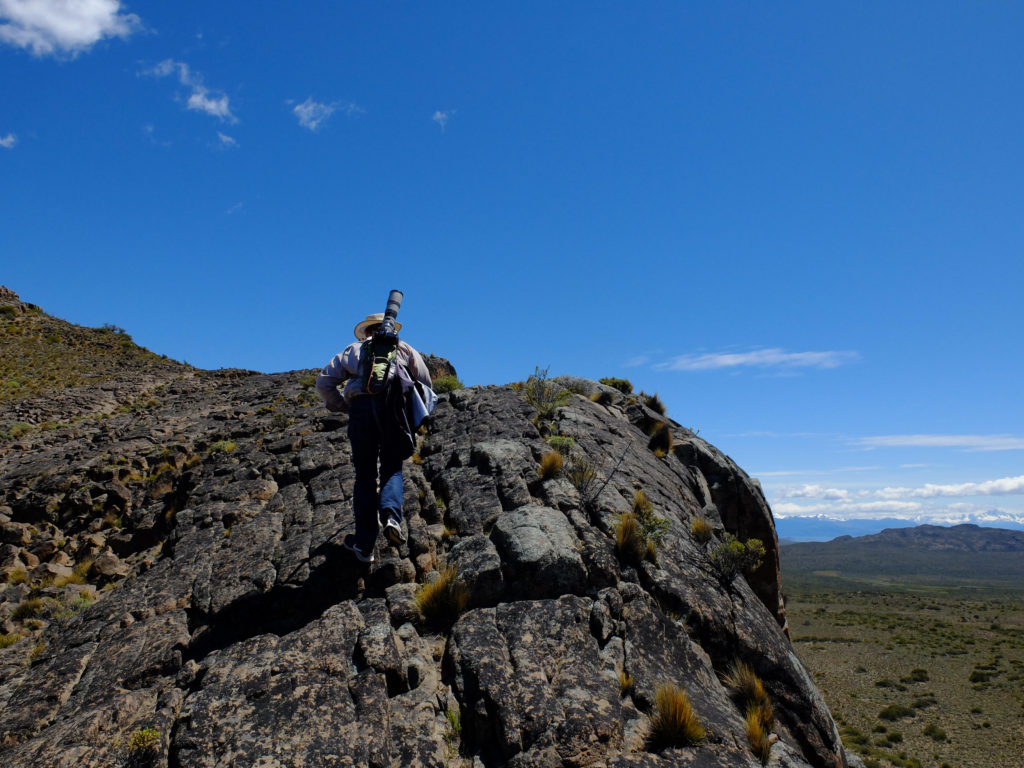 I did no birding, partly because I enjoyed their company and partly because I am preparing myself for the next phase of my trip where I will go completely off the grid. The bird at the top of my list is endemic to west Santa Cruz Province, breeds at a Plateau in the middle of nowhere, and is listed as Extremely Endangered by the IUCN (International Union for Conservation of Nature). I am going to spend a month volunteering to help in their breeding process. I don't know exactly how I can help, but the odds are very much against them and I'll do what I can. The introduced American Mink and Kelp Gulls are their worst predators and have severely decimated their population.
Hopefully the volunteers assembling this spring and summer can help achieve a successful breeding season. It seems odd to say, but a success would be that 10 eggs hatch and those chicks grow into juveniles and return to their breeding area next year. I could go even go further, and say that a success would be to keep the existing population (a few hundred) alive and to generate the conditions for a new breeding season. The situation really is dire.