I first met Matías Torreguitar in May 2018 at about 5:50AM in the bustling Buenos Aires airport. My wife and I had just landed, and Matías had graciously agreed to meet us at this very early hour. With a broad smile he welcomed us to Argentina! It didn't take long to confirm that we share an enthusiasm for birds and exploring nature, and I count myself as very lucky to have traveled with him to a number of his favorite spots across southern Buenos Aires Province.
Matías and I have kept in touch, and it was in a recent email that I learned the exciting news that he would soon be adventuring across much of southern Argentina (Patagonia). His trip started on November 19th and every day or two he sends another update. These emails have been so enjoyable that I asked if I could share them here in blog format. This is the first installment…the first 3 days of adventure. Travel vicariously with Matías as he searches for birds, and if you feel the need to join in, be sure to support his work by buying his eBook (a bargain at just $5).
---
November 19, 2019 – Day 1
Last year, and the year before that, I dreamt of a birding voyage of a lifetime. The idea was to start from Quequén (Buenos Aires Province) and travel to Santa Cruz Province, deep in the wild heart of Patagonia, to assist with a Hooded Grebe protection program. Once my duties there are complete I'll follow the stunning Andes Range north and return to Quequén: a zillion kilometers of birding!
But it is not easy to arrange everything that is needed to travel around Patagonia, so the dream was kept on hold. This year (2019) looked difficult also, but with my wife's support I was finally able to put the plan into action, and at 6:30AM this morning, the adventure started! Instead of driving our newest car I fixed up an old 1996 Legacy with almost 400,000 kilometers on it (roughly 250,000 miles) and hit the road at first light. My driving speed will be around 100 kph (~62 mph) and I will travel for more than 8,000 kilometers (about 5,000 miles). My intention is to go south along the coast of the Atlantic Ocean up to a place called Caleta Olivia in the Province of Santa Cruz, from there go west to the village of Perito Moreno (northwest Santa Cruz), and after staying a month assisting with the Hooded Grebe Project, return north Along the Andes Range to a given point (undecided yet) and back to Buenos Aires. The overall plan is to assist endangered species, to photograph endemic birds, and to enjoy the greatness of a very unique region. Please join me in my adventure via these blog updates, and if you decide to plan your own trip be sure to use my Field Guide to Birds of Patagonia and the South Atlantic (Kindle Edition) as a resource! I'd also enjoy having you follow Extreme South Birding on Facebook at well. Now back to my adventure!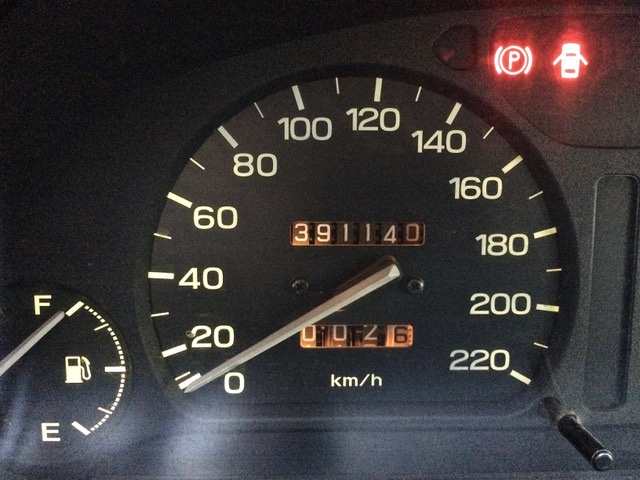 I wished to do it as old fashioned as possible, so instead of a GPS unit I grabbed a map of Patagonia. My first stop would be the city of Viedma (about 600 kilometers / 375 miles) down the road.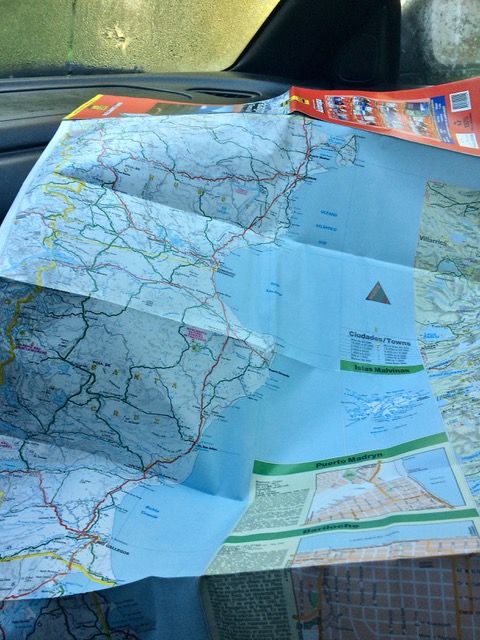 I did not expect much on this first part of the trip, but once I passed the city of Bahia Blanca (southern Buenos Aires Province) I started observing a number of meadowlarks. I began to think of the Pampas Meadowlark, an almost endemic bird that I forgot to include on my wish list. The National Road 3 was busy enough that I could not stop at most of the birds to see enough detail. So I decided to turn at the first dirt road that came along. The name of this particular road was not very promising: Ox Head Trail (Camino Cabeza de Buey). In fact, road is not really the right word either, as this dirt path was definitely rough…but somehow it looked just about right as a place to find the Pampas Meadowlark. Sure enough, after taking around 1,000 photos of Long-tailed Meadowlarks (a very similar species that is best told apart in flight), I found a slightly smaller bird, with darker upperparts, brighter red underparts, and a slightly smaller bill. I took several photos but the clincher came when the bird flew…it had dark underwings (unlike the whitish underwings of the Long-tailed Meadowlark)! Unfortunately I did not get a flight photo to share, but the visual confirmation still got me excited.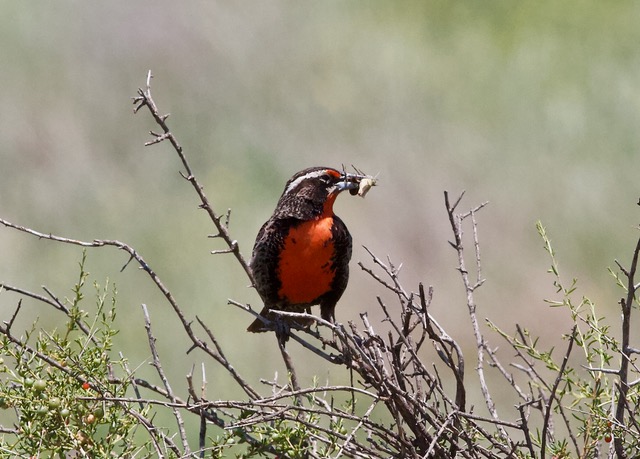 This was not the only surprise the Ox Head Trail had for me. There were a number of White-tipped Plantcutters (males, females, and juveniles), I took some good photos of them but did not worry too much because I have a large number of good ones in my files. As I always do after a day in the field, I downloaded the photos and started reviewing them…hundreds of meadowlarks, several male and juvenile plantcutters, and… oh!!! that is not a female White-tipped Plantcutter. What is it?… I checked the Field Guide I wrote and there it was listed under the Rhynocryptidae Family. The species was the very rare Crested Gallito (and another lifer!!)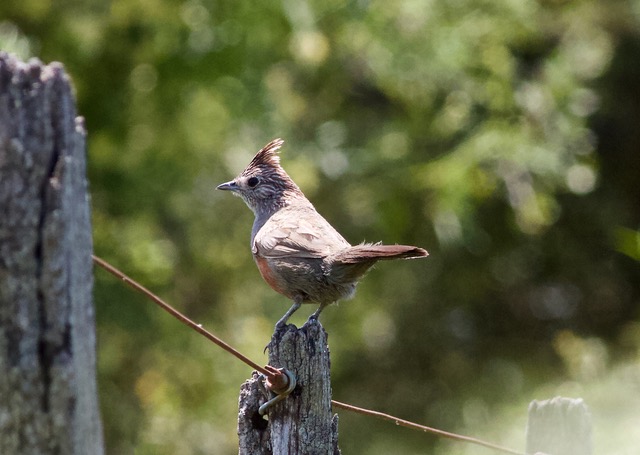 The Ox Head Trail proved to be a fantastic place for birding, besides the above species I saw a Cinereous Harrier, Turkey Vulture, and a number of local species that I'll continue mentioning as I keep writing. So far so good; and I still have at least 4400 miles to go.
---
November 20, 2019 – Day 2
My second day was planned well in advance, and the region that I would visit is home to the largest Burrowing Parakeet colony in the world. In a sense that is not saying all that much as this member of the Psittacidae Family is almost endemic to Argentina (there is also a small colony in northern Chile), however this is no ordinary colony. Starting near the village of Balneario el Condor this colony finishes almost 200 kilometers later at Caleta de los Loros!
I left Viedma at 7:30AM. I was now much deeper in Patagonia and there were several warning signals that I should have paid attention to, including this sign informing of no gasoline stations for 200 kilometers. But gas wasn't on my mind at that moment…there were parakeets to photograph!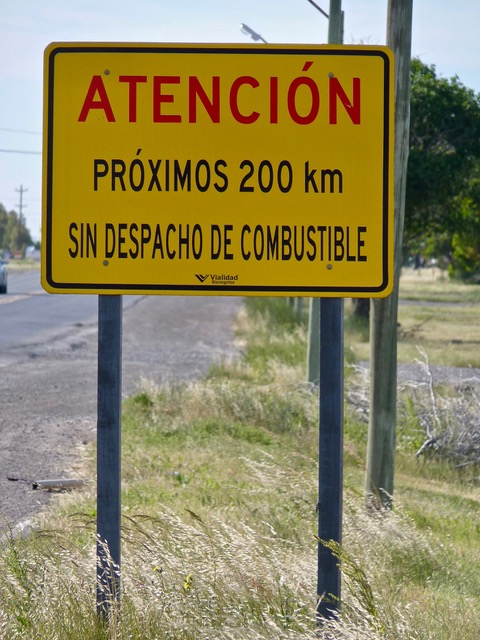 I arrived in the parakeet realm and it was amazing. There were thousands to the point that it was hard not to drive into them. The coast from El Condor to Caleta de los Loros is basically a never ending cliff where Burrowing Parakeets nest. If you come close, several hundred would leave their burrows with loud warning calls and fly in different directions…only to return about a minute later.
I stood there for a long while, watching amazed and trying to obtain at least one decent photo. I think that several were quite good.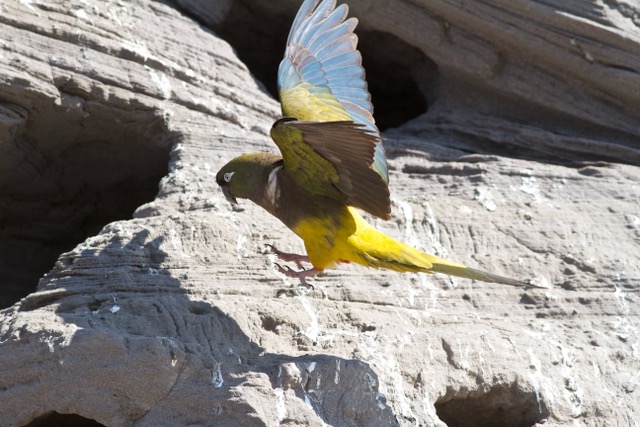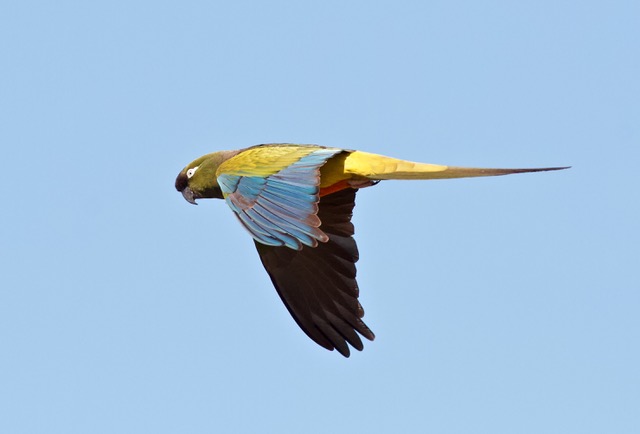 I kept driving past the small village of Bahia Creek hoping to continue with my birding until I arrived to San Antonio Oeste where I was going to get gasoline, but of course things could not be that easy. About 20 kilometers later a sign stated that the "road was closed". The fuel gauge of the old station wagon wasn't happy and it estimated my range at 410 kilometers. Basically I had to choose between two bad options: 1) return to Viedma or 2) take a different road to San Antonio Oeste. Both were right at the range of my Legacy. I reduced my speed to 70 km/h and decided to proceed toward San Antonio.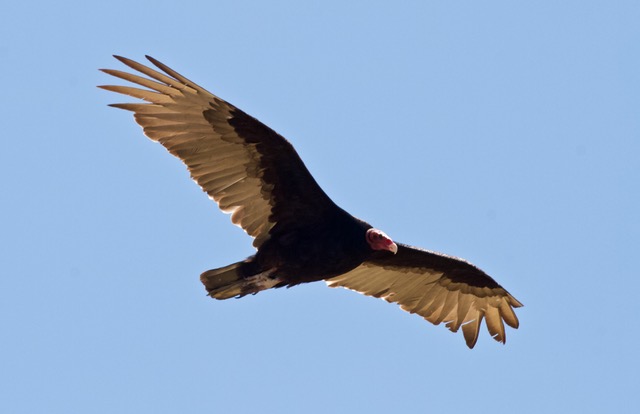 Along the way a few Turkey Vultures seemed to be expecting the worst for me and kept taking advantage of the thermals to fly circles over me.
After a tense drive San Antonio appeared in the horizon, I refueled, and continued to Puerto Pirámides in Peninsula Valdes where I had everything planned but…what sort of an adventure would this be without the unexpected?
---
November 21, 2019 – Day 3
My plans for the 3rd day were special. I would return to Península Valdés which is one of my favorite places on earth. I arrived from Viedma quite late and fortunately I found a comfortable place to stay. Next I called my wife while I was going to get dinner telling her of the misfortunes I had on the way to Peninsula and my ideas for the following day.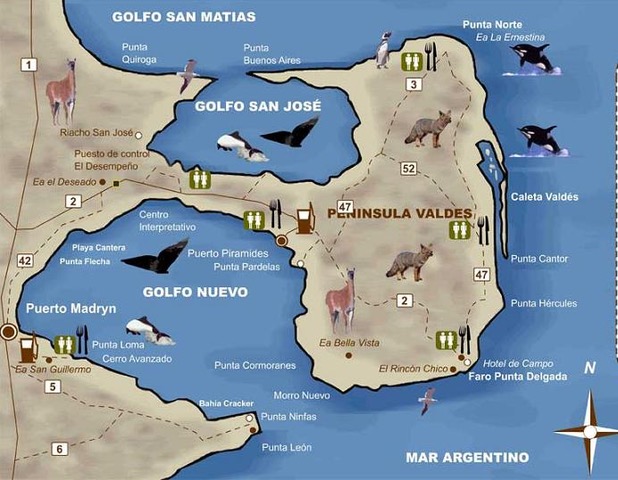 That night I stayed at Puerto Piramides, and early the next morning I planned to set my camp in Caleta Valdés (east Peninsula Valdés) to observe one of my targeted birds…the Magellanic Penguin. In fact my camping would be only a few hundred yards from one of the largest colonies for this species!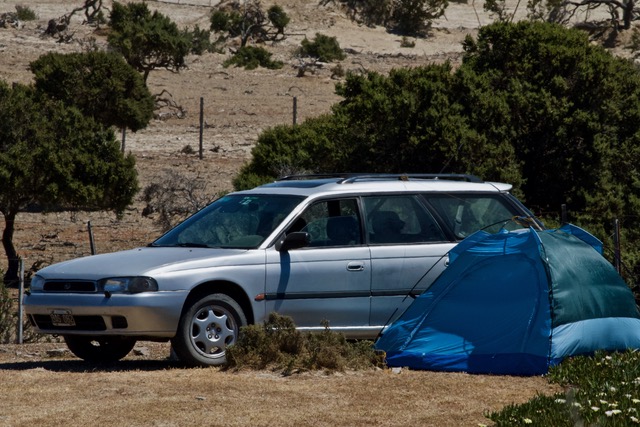 The solitude and greatness of Caleta Valdés goes beyond any explanation. It is a sacred place where everything seems to fit to perfection. I was the only person along a 30 km stretch of beach. This was possible because I had a special permit from the owner of the land, otherwise no-one can enter the grounds of Caleta Valdés because it is a Reserve with no public access.
There are thousands of penguins that share duties, some (could be male or female) incubate the eggs while others search for food and then they switch. There is a constant coming and going, but there is also time for chatting and relaxing…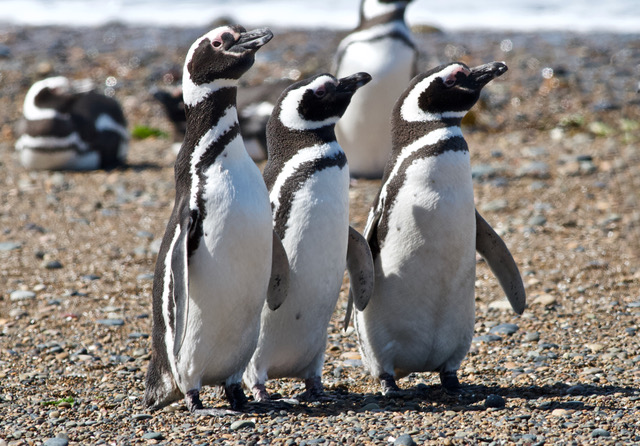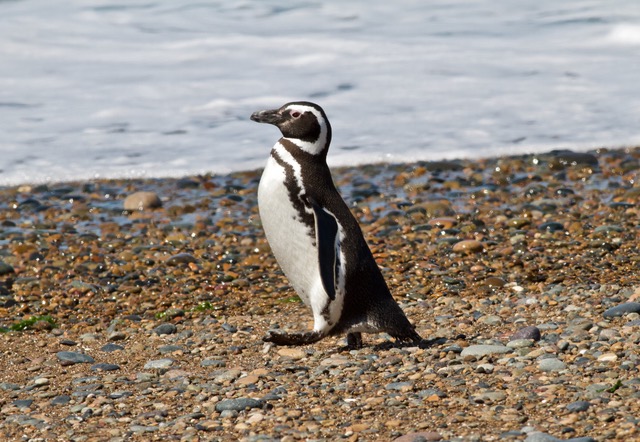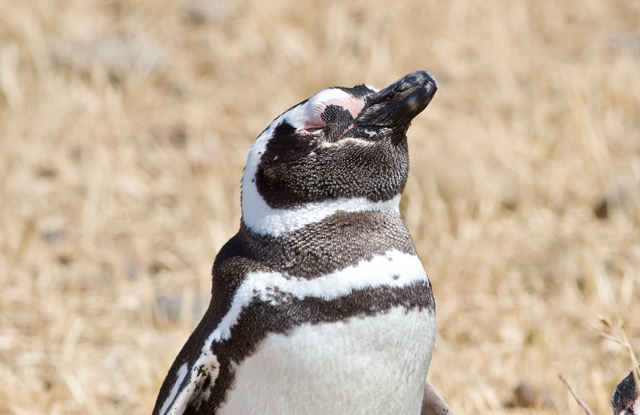 But not everything is joy in "penguin land", there are important matters to worry about…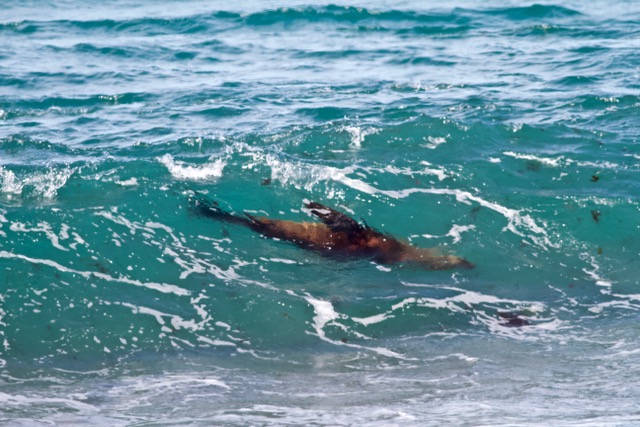 Península Valdés is an amazing place, but it is always reminding you to have a plan B so you don't end up like this…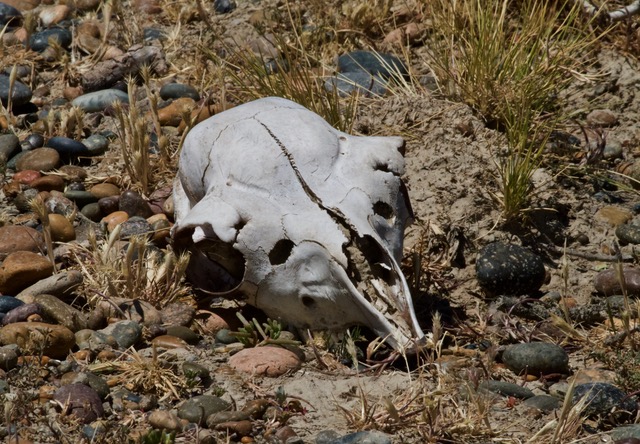 I spent the complete day at the beach observing these wonderful animals and their environment. I missed my wife, Andrea, because we visited this location together two years ago. I promised her that we would return and visit it together again.
Tomorrow I will seek another of my targeted birds.