Here is a continuation of the grand adventure that Matías is having in southern Argentina. If you missed the first blog entry, please look here (Days 1-3).
November 22, 2019 – Day 4
For the morning of the 4th day I decided to pay closer attention to the penguin colony. I knew there should be eggs or even chicks at this point, and the large number of Chimango Caracaras and Kelp Gulls overflying the area seemed to confirm my suspicions. Attempting to disturb as little as possible, I watched carefully and soon noticed that some adults were indeed incubating two eggs and turning them periodically.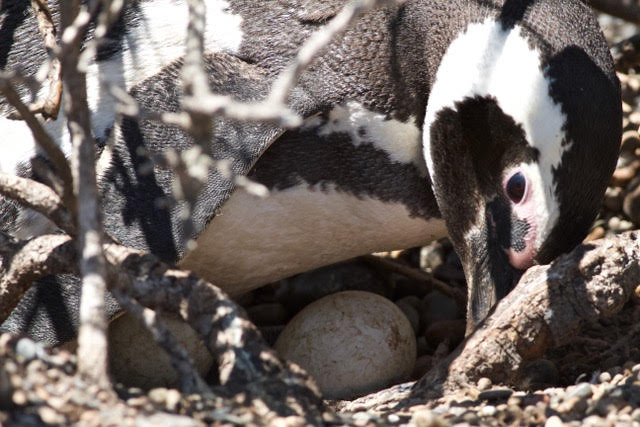 Others were already caring for their newborn chicks which were far more active than I would have thought.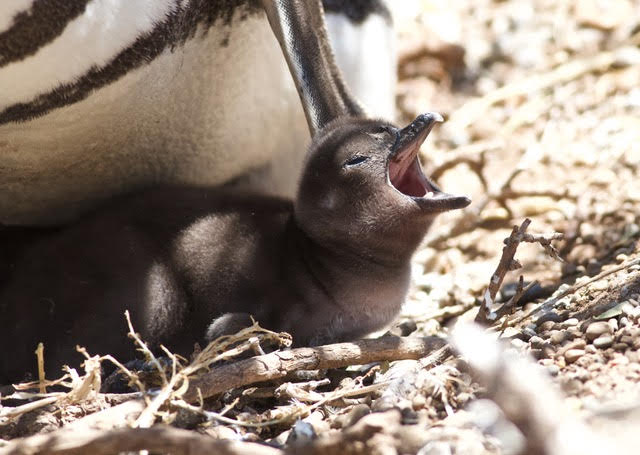 After my morning session at the nesting area I decided to return to the camp to cook myself some spaghetti to gain strength for another of my targeted species: the Southern Giant Petrel. They are indeed amazing birds, with a wingspan of around 2 meters, and the ability to move effortlessly in the air.
As they do not emit any noise, you have to be on constant guard to see where they will appear. They might be close to the seashore or they could be taking advantage of the winds along the beach and appear like a flying ghost, only centimeters above the ground, until they pass just a couple of meters away. I don't think I was able to catch this fast-paced action quite like I wished…
After this point, they come so fast at you that the camera loses focus and it is really difficult to capture them when they go by. When they are flying with the sky as a background the photos are much easier and you can observe the greatness of this bird.
It was a long day, and I was tired. I had walked several kilometers in Caleta Valdés to find the right spot for photographing the petrels so I decided to return and call it a day.
November 23, 2019 – Day 5
On my 5th day my friendly neighbors wished me well as I was leaving my camp…
I went to the San Pablo Valdés Reserve that belongs to the Vida Silvestre foundation. My intention was to photograph 4 species there: Tawny-throated Dotterel, Imperial Shag or Imperial Cormorant (depending on the source), the Rock Shag and the Guanay Cormorant. The day was quite cloudy and very windy. The birds didn't particularly like the windy part of it so I guess they searched for refuge elsewhere, however I still managed to photograph a small group of adult and juvenile Imperial Shags.
And a Rock Shag that was sharing the spot with them.
I finished my day at Reserva San Pablo Valdés and spent the night at Puerto Piramides. Day 6 would be a travel day to my next location further south in Patagonia.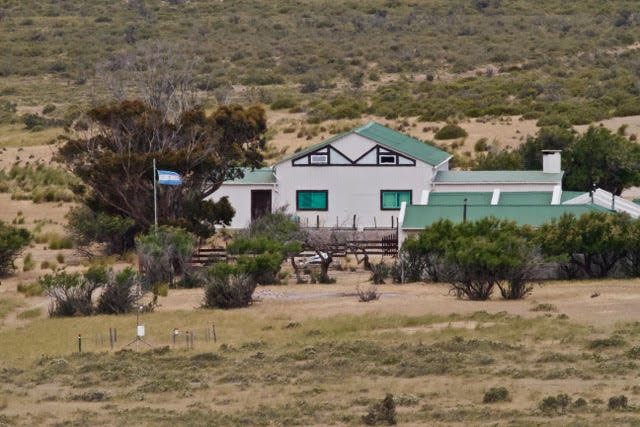 November 24, 2019 – Day 6
Day 6 did not start too promising. I had to travel further south from Puerto Piramides in Peninsula Valdés to the sea village of Camarones (eastern Chubut Province). I'll tell you know the story of the name Camarones which translate into "shrimps" in English.
The general understanding is that this village owes its name to some sort of shrimp production or something of the kind, but the fact is that before the village even existed, these lands were part of a extremely large farm that belonged to a Mr. John Cameron. Slowly the village started growing because workers from the farm started building small houses by the sea and in time it became what it is today. Those original locals were not able to pronounce the name Cameron, so they called him Mister "Cámaron" (stress made on the first á), and from that it went to "Camarón" (stress on the ó) to finally become Camarones which is the name of the village today.
Having explained this, I'll return to the "not too promising day". I departed around 10 am from Puerto Piramides and driving south on Ruta 3 was kind of boring compared to the dirt roads I have traveled so far. I stopped in the city of Trelew to refuel and then resumed my drive. Checking my map I noticed a sea area named Punta Tombo which I had not planned to visit. As I came to the road that would take me there I turned left and headed to Punta Tombo. What's an adventure without some spontaneity?
The first surprise was about 800 meters along this new road when I saw a splendid juvenile Variable Hawk.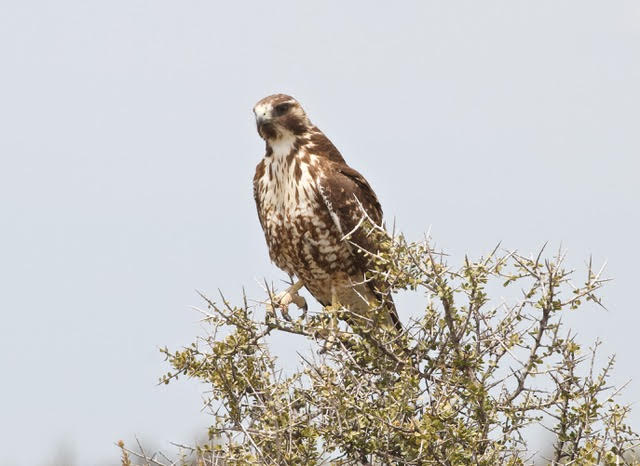 A while later I was soon seeing one of my targeted birds!!! This was an adult male Lesser Rhea with youngsters. Unlike many other species, what happens with rheas (Lesser and Greater Rheas) is that several females lay eggs in the same nest and it is the male who cares for chicks as soon as they are born.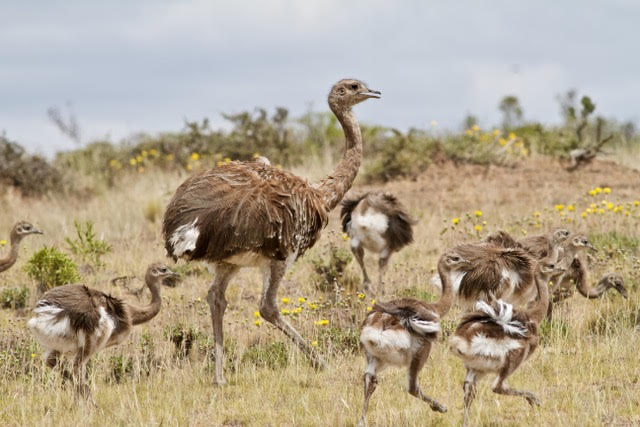 About half an hour later I arrived in the provincial Reserve of Punta Tombo. The main attraction here is the penguins but I had several days camping among them, so I started looking for other birds. I asked the rangers and they told me that there were skuas (which were on my wish list) and some other local birds but nothing really interesting.
I was walking along a marked path observing the nesting colony and looking for other birds but nothing much was happening. I stopped at a Ranger's post and chatted with him while watching the penguins coming going from the sea, and suddenly…but that is not a penguin!!! Indeed it wasn't! Instead it was one of the birds that was atop my wish list. It was the endemic and vulnerable White-headed Steamerduck, which unlike other steamer ducks, is flightless and only inhabits a small portion of the eastern coasts of Argentina (particularly in the Province of Chubut).
I told the Ranger about the importance of that species but unfortunately he did not have the slightest idea of what I was talking about. Fortunately, later I spoke to Tania (another ranger) and she was more aware of this species and their Vulnerability.
After this chance encounter I did not expect or even wish much more to happen, so I headed to the former lands of Mr. Cameron with a wide smile and great happiness! What will I find next?